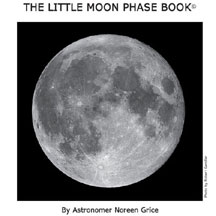 Here's a glow-in-the-dark tactile book with large print and Braille for everyone who is curious about the Moon and it's changes.
Have fun discovering the moon's features as you touch the different textures superimposed over the image of each phase.
See, feel, read and learn! A great book for families.

The Little Moon Phase Book is 12 pages long. The text is in print and Braille and the images are created by a silk screened additive on top of black and white photographs.
The book has 8 touchable images that also glow in the dark
(New Moon, Waxing Crescent Moon, First Quarter Moon,Waxing Gibbous Moon,
Full Moon, Waning Gibbous Moon, Last Quarter, Waning Crescent Moon).

The Little Moon Phase book is available through Ozone Publishing Corporation.

You can also order this book in Spanish with Braille as El Pequeno Libro de las Fases de la Luna through Ozone Publishing Corporation.